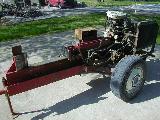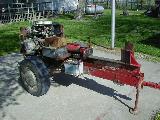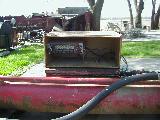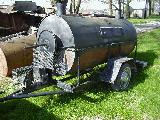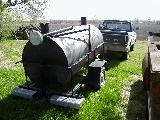 The smelting pot of Linderman's Home Page!

The log splitter that helped to heat our home for many years. Trash truck hydrolic cylinder is oil fed via a John Deere combine pump turned by an 88 horse power Toyota Corolla engine. Plenty of umph! Muffler is at rear of splitter, it has a wire grid welded to the top of it for a glove dryer.

On the back side you see the engine control panel  as well as the battery box. Engine is mounted in its own original motor mounts, voltage regulator is mounted to backside of engine control panel. No pull rope here...

In a metal box on top of the oil resevoir sits the AM /FM radio. No splitter is complete without one. The engine runs at around 1500 rpm ( fast idle ) and is very quiet to work around.

This is our Pig Roaster. I built it about 12 years ago and have used it over a hundred times I suspect. It is a giant rotiserie with fire trays on both sides. The 1720 rpm motor is geared down to approx .65 rpm. Lots of torque to spin that couple hundred pound pig. Accesories include grill racks to cook up to 200 hambugers, 500 hot dogs, and racks for smoking beans, chickens, or about anything.

It has a swing away lid counterbalance. That silver disc is 80 pounds of lead melted into an old skillet. It makes for one hand opening of the lid as well as proper tongue weight when towing. No decent cooker would be without a nice step bumper as well. You haven't had good Pork and Beans until the Linderman's fix'em!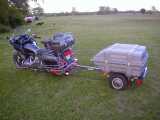 Our 1983 Honda Goldwing with custom built trailer. Click on the picture to see more about the bike and trailer. Amazing how smooth a trailer pulls behind this motorcycle.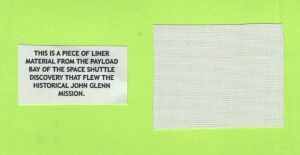 This is a fantastic souvenir from the USA space program. I collect such items and this is one of my most treasured. Be sure to click on the picture for enlargement. The texture of the cloth can be seen much better in the larger picture. It is a rather stiff, fine woven fabric. To have, touch, and feel this is to take a ride with John Glenn himself!