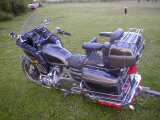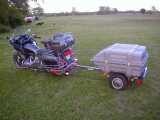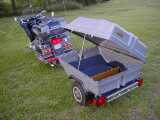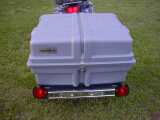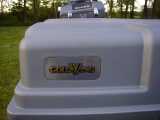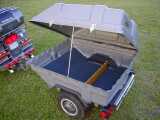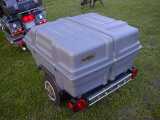 This was a "standard" Aspencade model with digital dash and AM / FM stereo. We installed light bars, trunk / saddle bag racks, arm rests, backrests, and helmet to helmet intercom / stereo system. The bike has factory air suspension with onboard compressor for leveling. I built my own hitch onto the bike to pull the trailer with.. It works very well.

I spent the best part of a summer building this trailer. It was built using a car topper as the body and a cheap 4ft x 8ft utility trailer kit as frame. I did my best to make it look as though it were a factory type trailer by using the big "cheap" looking light etc. I did not want a "customized" look, just a one of a kind trailer. Equipped with mudguards, hubcaps, marker lights, and lid locks. The rear bumper was cut from an undamaged section of the top lip of an 86 Toyota bumper, capped on the ends then chromed.

The interior is carpeted to reduce any scratching of cargo and there is an oak divider with eyelts to lash cargo down to. The divider slides up and out for longer articles. Maintaining proper tongue weight and reducing cargo shifting while riding is very important. While it does pull with ease an extra dose of caution should be taken and no corners should be taken short. Riding on the inner lane is suggested.

The finshing touch! A polished aluminum plate with a factory Goldwing emblem inset into an area that had a manufacturer sticker on the topper box.