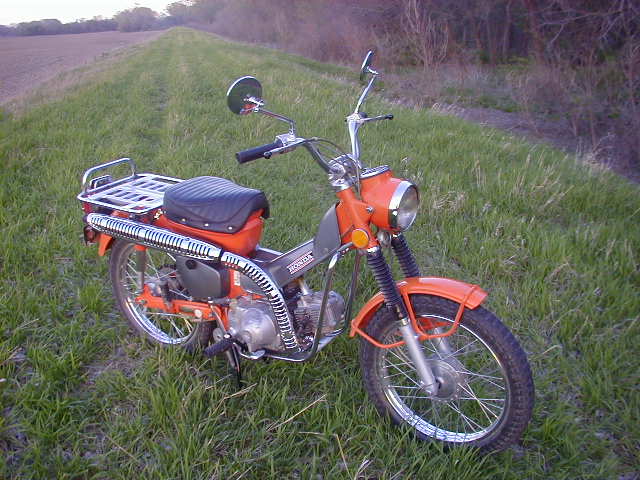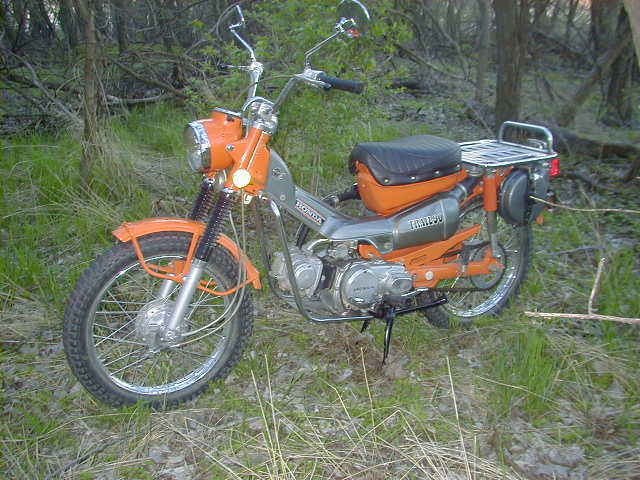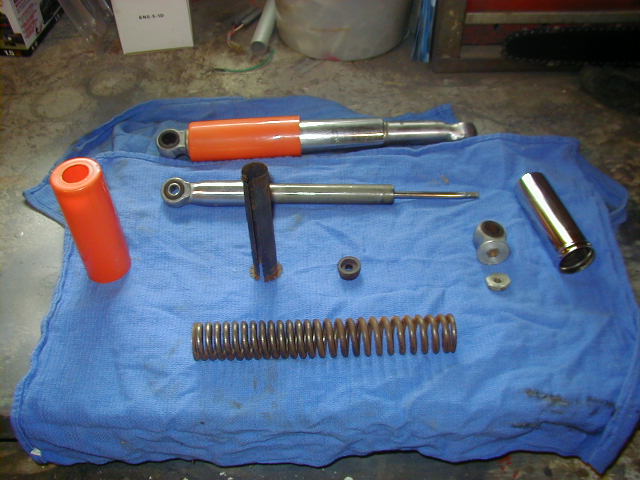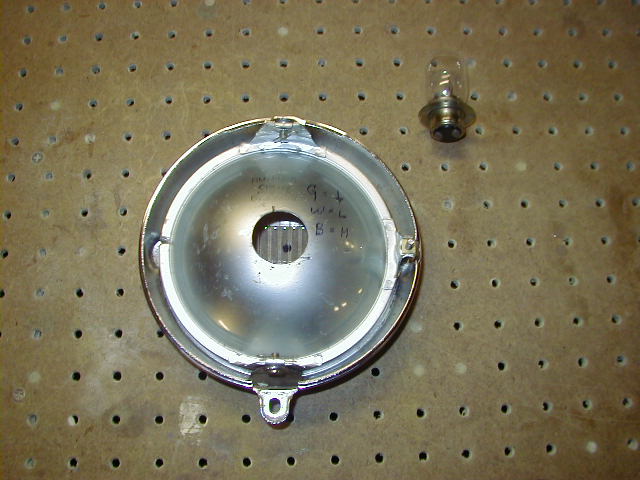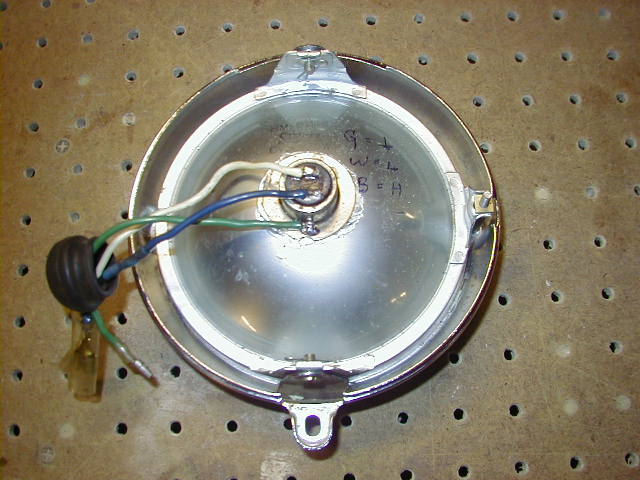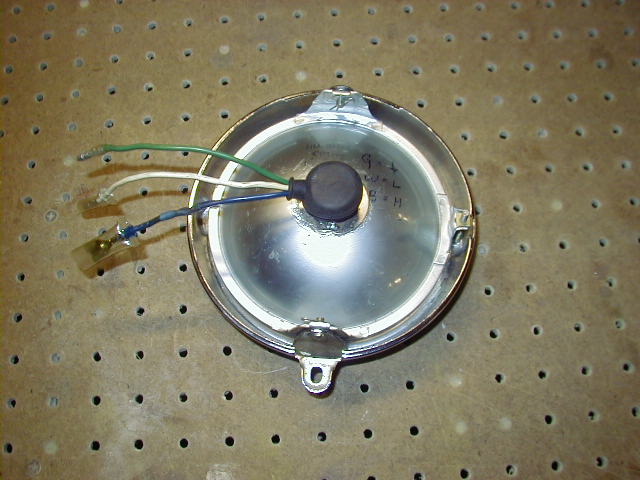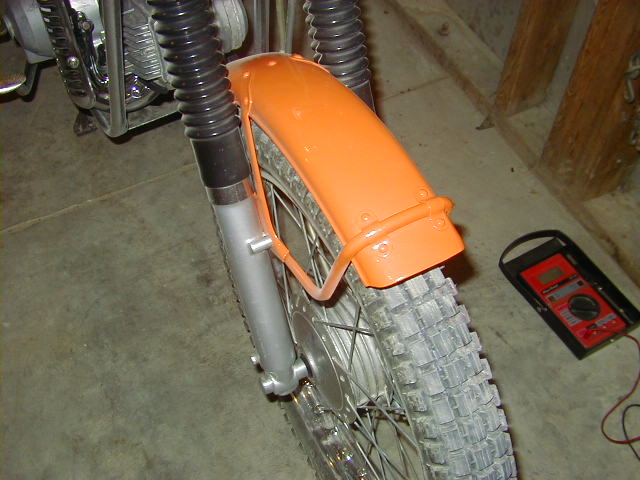 A few pictures and ideas of how I reworked a neglected a 1973 Honda K4 trail bike.

The bike had set in a wet shed for some 10 years. I soaked the carb 2 weeks to be able to pry the slide loose. The center kick stand had to be replaced..it had rusted the feet off of the legs.

The muffler had to be replaced, as well as the tires. Rebuilding the carb was in order along with normal tune up items to get it to run. Fuel tank had to be cleaned and new lines installed.

Shocks were disassembled and cleaned, and cleaned, and cleaned...:  ).

All bulbs were replaced, including the burnt head light bulb.

The original bulb was cut out using a dremel tool. Then a new 6V bulb was glued in place using Shoe Goo.

The original wires were soldered onto the bulb and the rubber cap reinstalled. A good repair for 4 dollars.

The rear carrier had several holes rusted through. They were ground, welded, and the entire carrier was treated with rust preventive ( similar to naval jelly ) Then it was painted silver, leaving the edge chrome..should last many years.

Front fender had been beat down in the middle to make room for a second headlamp that was installed when the original had burnt out. I straightened the fender and had paint matched at an auto paint store.

It took an entire winter to get the bike back in shape but she starts first kick and is a joy to ride.















Randy
A bit about chrome restoration....

I spent a winter restoring my "free" CT-90. It was not free cause it was the prettiest thing you have ever seen. By some standards, the engine shield, exhaust shields, front and rear wheels could have all been tossed, they were in rather poor condition.

The rear carrier was the only thing that was in too poor of condition to bring back to original condition. It had to be repaired and painted but retained the chrome edge.

I read Internet sites concerning chrome restoration and learned some tricks that I used along with my own methods used since way back in high school. Combined, the methods brought my CT back to a very respectable level.

On pitted, rusty areas use a brass brush and white vinegar to scrub until most all signs of the offending rust is gone. A big plastic tub with a gallon of vinegar works great. Next, mix kerosene with Turtle Wax brand rubbing compound. Use the white compound, not the red. Once polished and looking awesome apply a couple of coats of regular Turtle Wax auto wax to protect the area.

Be careful not to use too hard or stiff of a brass brush...softer is better as it can scratch the good surrounding chrome. I have found good brass brushes at auto parts stores, they look like big toothbrushes. Scrub the new brushs into scrap until the bristles are softened and rounded a bit before using them on your project. Brass "steel wool" would be nice, but I have found none here in the midwest.

The idea is that brass leaves no micro-hairs to induce rust back into the area just cleaned. The vinegar is a light acid that cleans and seals. The kerosene and polishing compound leave a great clean luster and finally the wax protects your work for a reasonable time.

Scrubbing, polishing, and waxing a wheel may well take 3-4 hours or more... it is NOT a 15 minute job, not for a good job. The method worked great for me but about one part per weekend is all my fingers could handle without cramping and making me give in... take your time, enjoy!    Randy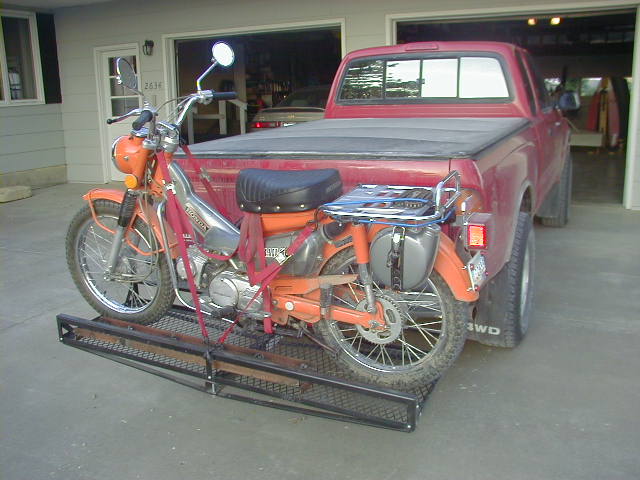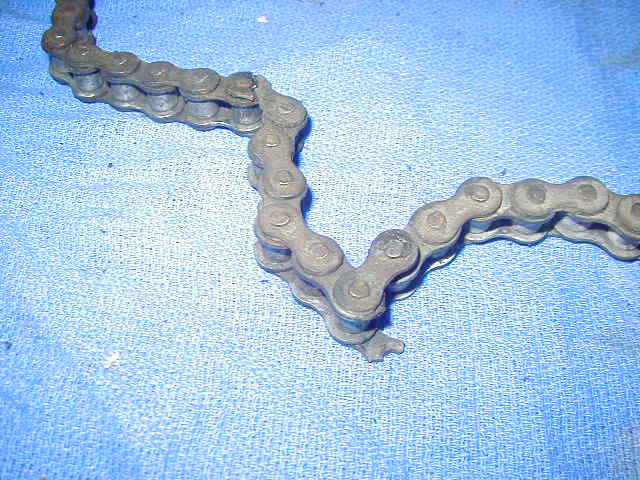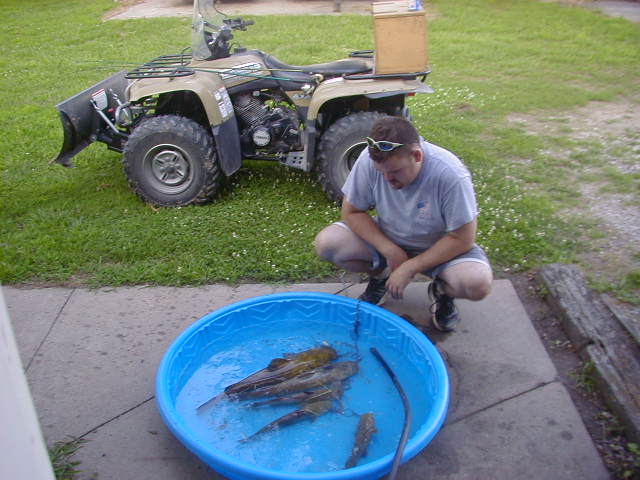 " The Kansas River Ride of '05 "

A really wild, trailblazing ride along the Kansas River ended up with me very tired and the forever tought CT being hauled back home on my carrier. The broken chain still strapped to the rear carrier.

A closeup shot of the chain.. If you can only imagine the torture applied to it by handlaunching theCT many times over dead cottonwood trees, brush, and vines, until its death.

The whole CT ride was unplanned. I was going for a small ride to see how my son was doing while he was fishing. He did real well with fish from 2 to 6 pounds. I was lucky to make it back with only a broken chain... What a ride!!!