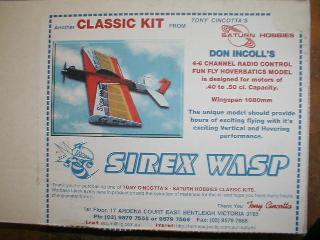 This is the picture on the box you get when you order a Saturn Hobbies kit of Don Incoll's Wasp Funfly plane. I am just getting started on building this kit as of April 2000.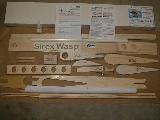 This is what is in the box! It even comes with OZ cover  ( and instruction sheet for it ), decals, and glue.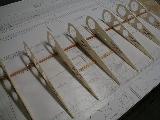 The start of the wing. Be careful about what is top and bottom as it is symetrical. The holes in R-1 and R-2 have to be in proper order however.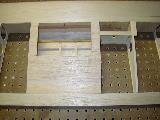 This photo is a bit " fish eyed" but it does show the servo rails installed as well as the optical senor mounting plate. I used scrap sheeting around the sensor mounting plate so covering would be easier later.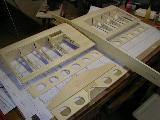 The fuse and wing have now been joined and the model is sitting right side up. ( sensor mount on left side away from exhaust.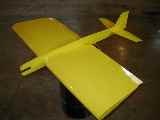 I'm getting this NERD / CUB feeling!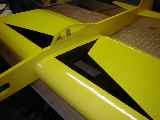 Ahhh..... Thats better! A little bit of paint work really helps things out. The color scheme on the bottom will be totally different for orientation reasons.

It has been over a month building this kit, Don Incoll probably thinks I've gone off to take a dirt nap.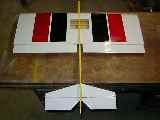 This is the bottom side, even _my_ tired old eyes can tell the difference. Still trying my best to hide the optical sensor window. Hope I don't get sick watching all these colors spinning around!

Here she is, nearly 6 weeks after starting on it. You can sure tell spring time is here as building time nearly comes to a halt. It's a beaut'... test flight real soon I hope.

( Mothers Day... May 14th )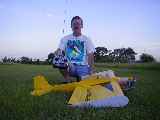 Sunday 5-21-00 First flight. First two flight in the morning were somewhat flitty and needed constant control. I made a few minor adjustments and made three more flights in the evening.... it was in the "groove" then. Sorry to say, a new " Current project" will be here soon.... this plane is finished and is fantastic! Thanks Don and Tony.

This Wasp was reviewed by me and printed in the Airborne magazine down in Australia, their leading R/C magazine. It was my first attempt at writing an article but was fun due to the great subject I had to work with. Click on the "pages" below to see the article.

( click on pics to enlarge )