R/C Boating.....in style!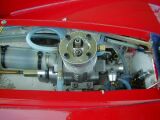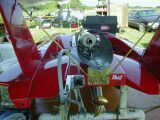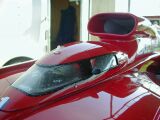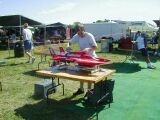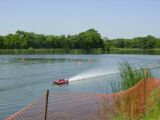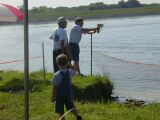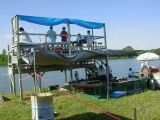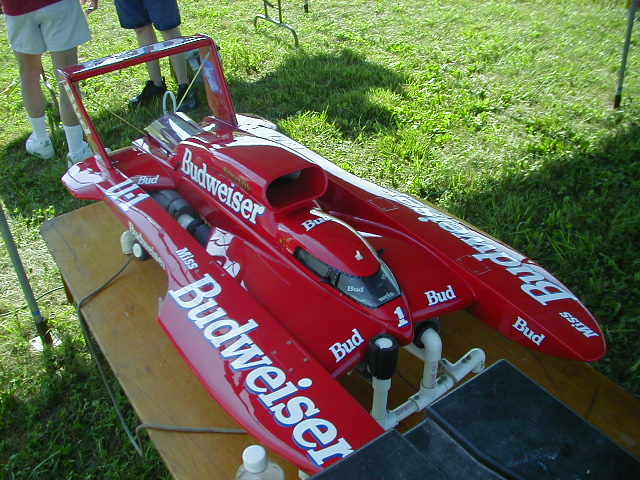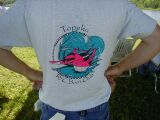 Pictures taken at the July 2000 radio control boat races in Topeka Kansas, USA. If you have never had a chance to attend one of these events, make an attempt to, you will be impressed.

This boat belongs to Terry Allen of Topeka Kansas. While there are many classes of race boats. My favorite is Unlimted Scale.

Terry's Miss Budweisier is an excellent example of a boat in this class.

To airplane people this would be a .67 size engine. It has a water cooled cylinder head, muffled tuned pipe, twin glow plug head, and on the forward bulkhead, an (in-flight??) fuel mixture control.

The business end. Steering, muffled tuned pipe, wing braces, and prop show up in this shot

Did I already say this Hydro is raced in unlimited scale?  Check out the rivets, mirrors, and sheen of this model.

Here is Terry himself in the pits getting ready to fire up the beast and go looking for another victim! These people travel the midwest racing at club sponsored events.

Out of the 4th turn at Pocono...... and heading for the finish line. Terry actually won this race, it's not a setup picture! The water was very nice this Saturday morning.

Terry is using his radar gun during one of the many heat races. One reading was taken of 73 MPH. Flying without wings.... silly people!

Keeping everyone honest... the judges, timers, lap counters all have a very good view. It is a very orginized event that records points for the entire year of racing.

Pretty easy to tell where this guy is from. They all put on a very good show and the sportsmanship is excellent considering this is racing... not sport boating. They should all be proud. Good Job!