This page was last updated on: March 30, 2014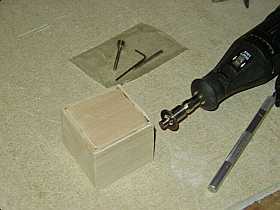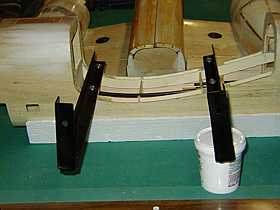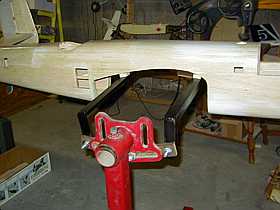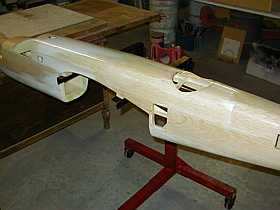 Router for your Dremel tool. This set cuts 3 different widths at various adjustable depths.
A&W Hobbies
.
Cool tool that works!

1 inch angle iron with 90 degree legs. Drilled to bolt onto my existing "removable wing" saddle.

Legs bolted to standard automotive engine stand. Holds airframe perfectly. I should have built this long before the paint stage of the project.Note wood block spacers between steel legs and airframe..better for sanding and painting.

Ken Spears, one of my great B-25 model advisors, showed me his Corsair mounted to an engine stand. I liked the idea...thanks Ken!

I have not tried to roll the airframe over yet. The head room in my shop will not allow it. When I take it all up into the garage for paint work..... It rolls over great!!!!  5-28-02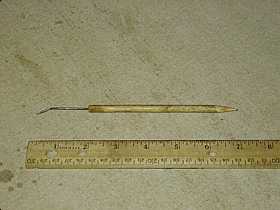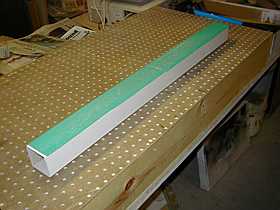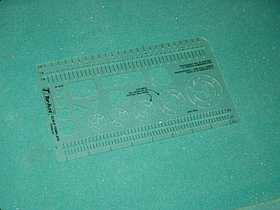 1/4 inch dowel and 1/16th music wire make up my most used tool. It does everything..prop, pick, trace, gouge, mark, align, hold,.. it has built over 30 models.

PVC downspout that is used on the Combat type airplanes makes a nice long sander when 2 sheets of air file paper are glued on with 3M77. 4 sides for different grits.

Top Flite Scale Template #TOPR2187. Designed to space rivets but I have used it for everythign except that so far. A very nice flexible rule and spacing tool. Thanks Joe.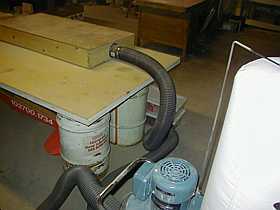 Sanding table that I use cosntantly on all my r/c projects. 2ft x 4ft bed draws lightly to suck all that balsa dust down and out of the air.

Read more about the sanding table I designed in an article published in
R/C Report
issue #184, November 2001.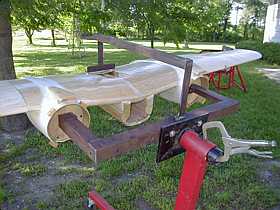 I built another framework and mounted the wing to an engine stand, Much like as with the fuselage.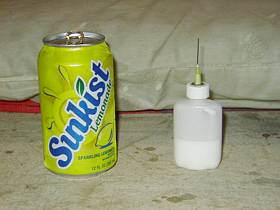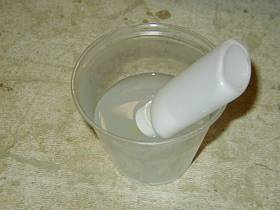 The bottle with fine metal tip I used for all my rivet work. I tried many applicators but found this one by Jeff Foley to be the best by far.

Plain Elmers white glue with 5-10% water added makes perfect rivets. Do not do this in heat...room temp or cooler for a good looking rivet. I store my bottle in water between rivet sessions, just don't leave it inverted more than a couple of days as the solids in the glue will seperate and clog the tip.

The rivet tool can be purchased from Jeff Foley. If you intend to do glue rivets I reccomend this tool without reservation. It works very well.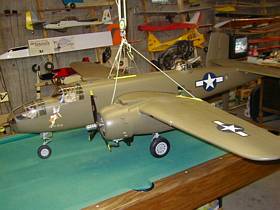 Checking CG..

1st. loop of rope around fuse in front of wing and hooked to block and tackle.

2nd. loop of rope behind wing and hooked to block and tackle.

Make either the front or rear loop of rope adjustable and lenghten or shorten it until the aircraft hangs level.

A small string and weight will now be attached to the block and tackle hook. Where it points on the fuse is the CG at that given weight arrangement.

Make adjustments as needed and rehoist, level, and re-check the new CG point.